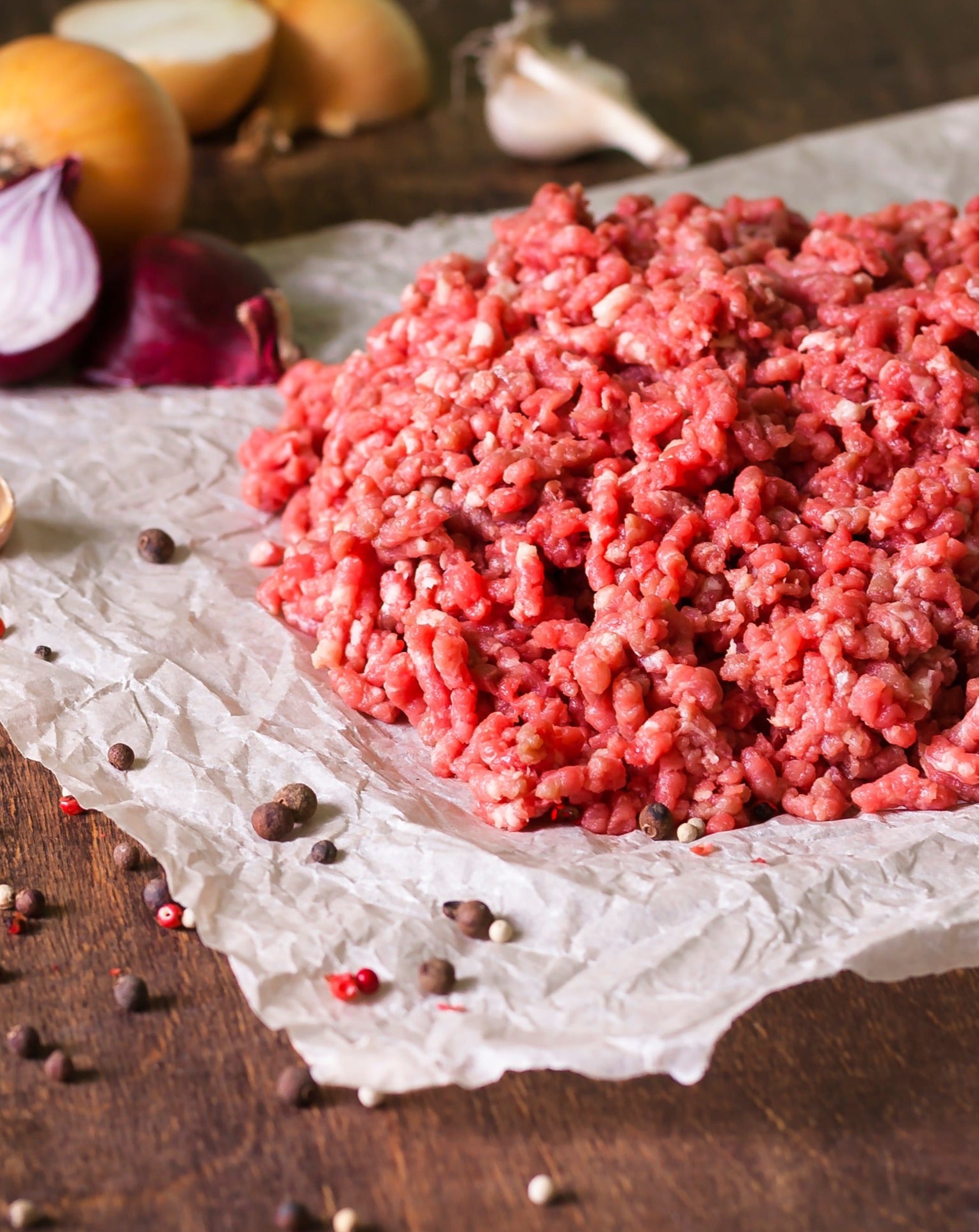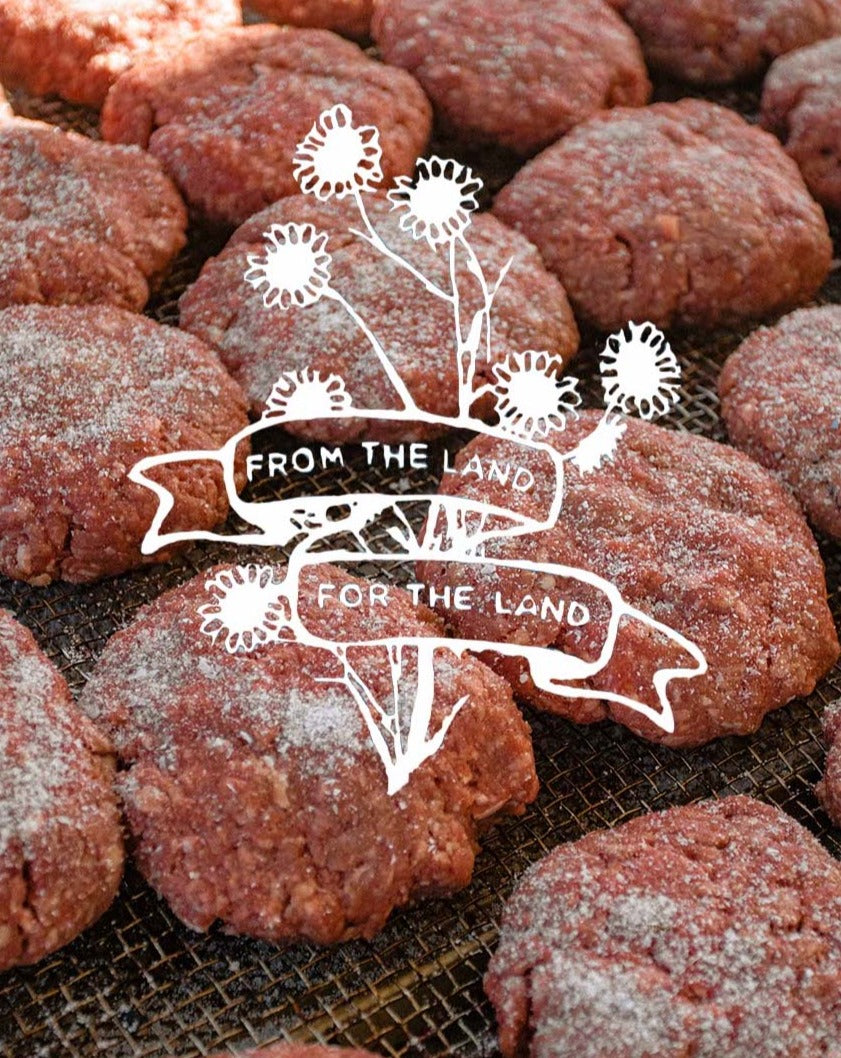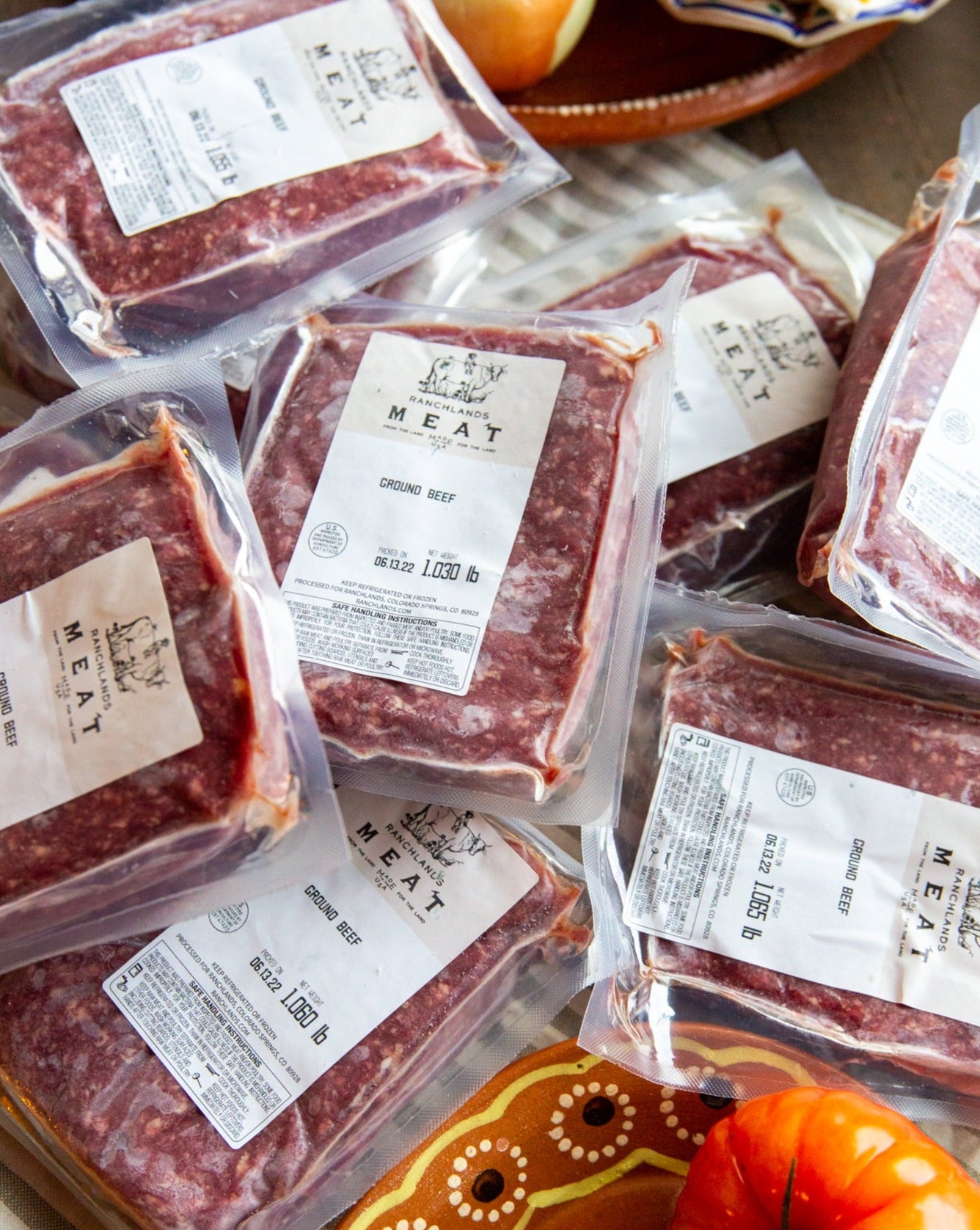 Ground Beef
$87.20
Regular price
$109
Subscription • Save
Ranchlands Ground Beef is 100% grass fed and finished. This nutrient dense protein is bursting with a robust flavor that comes from grazing rich pastures of forbs and grasses. As a 90/10 grind, it is lean and has no pesticides, antibiotics, animal bi-products, grain or hormones.
We offer volume discounts for orders over 20lbs. For more information, please contact us at mercantile@ranchlands.com.
Meat is individually wrapped in 1lb packages.
Our Cattle Program
Ranchlands Meat is produced from our own cattle– born, raised and finished on our ranches. A product of nature, Ranchlands animals are instrumental in helping us achieve our conservation strategies by mimicking the symbiotic grazing dynamic between our grasslands and the great herds of bison from the past. Our cattle breeding program selects animals to thrive in their natural environment, making our meat as close to nature as possible.
Learn more about cattle ranching's conservation impact.
​
true
Ways to Cook your Ranchlands Meat
Good for the animals
All of our animals graze openly on our ranches, oftentimes in pastures up to 5000 acres in size. We employ low-stress livestock handling techniques to ensure they are never put under unnecessary pressure.
Good for the land
Our cattle graze symbiotically on the native vegetation of the North American grasslands, where insects, migrating birds, coyotes, pronghorn, prairie dogs, and other residents of this ecosystem are able to thrive.
Good for you
Naturally-raised beef, free of antibiotics, pesticides, or other harmful inputs, provides one of the most nutrient-dense food sources possible.
Bird Friendly Beef
We are proud to announce that our beef is raised on land that is now Certified Bird Friendly by the National Audubon Society. When you shop for beef, you can contribute to grassland conservation efforts by purchasing meat that is certified bird-friendly by Audubon.
Learn more
Come Visit the Ranch
Come stay with us, see where the cattle are born and raised, and participate in the daily work of running a ranch.
learn more
Frequently Asked Questions
Do you give your cattle antibiotics or hormones?
We administer antibiotics only when they are needed to save an animal's life, but each animal that receives them is permanently identified and moved out of the herd so it will never be used for Ranchlands Meat.
Where is Ranchlands meat processed?
Ranchlands Meat is processed by a small family owned processor in Wyoming.
How is the meat shipped?
Our products are shipped in eco-friendly, 100% recyclable packaging with dry ice to ensure safe temperatures upon arrival at your door.
When will my order ship?
In order to make sure your meat arrives as fresh as possible, we only ship orders Monday to Wednesday. If you place an order between Thursday and Sunday, you can expect it to ship the following week.
Can I order less than ten pounds?
Due to the high costs of shipping and the volume of packaging materials needed, we do not offer any boxes smaller than ten pounds for online orders. Individual packages are available on-site at our Chico Basin and Zapata Ranches for local pickup. Please contact mercantile@ranchlands.com for more information.
Can I pick up meat at the ranch?
Yes, we have ground beef available for purchase at both our Chico Basin and Zapata Ranch locations.